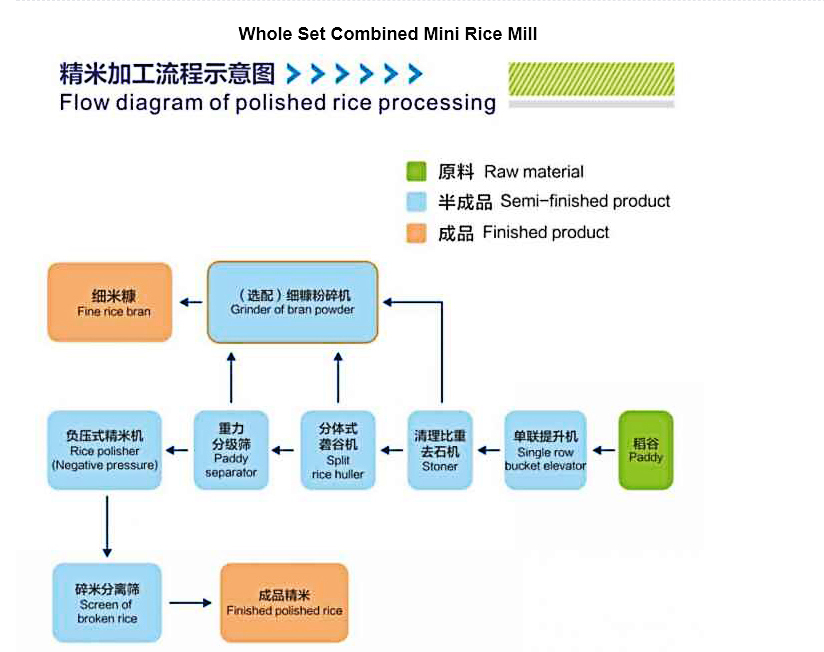 This equipment features excellent material, fine processing and good technique. Small power, low energy consumption, high output, easy operation, low failure rate, fine rice brain, rice with bright color, excellent milled rice rate, which are HOLMER's core competitiveness.
Characteristic:
(1) Low noise and smooth operation.
(2) With its unique rice milling technique, each granule of rice can be evenly unshelled, whitened and polished while keeping close contact with the emery roller, producting less broken rice and bring higher milled rice rate.
(3) There is no rice bran powder in the finished ones.
(4) The rice surface shows more roud and bright.
Features:
1. This integrated rice milling line can be used to process both long-grain rice and short-grain rice(round rice), suitable to produce both white rice and parboiled rice, high output rate, low broken rate;
2. This line is combined with bucket elevators, vibration cleaner, de-stoner, Husker, Paddy Separator,dust remove, it is practical and eco-friendly;
3. This line will bring high precision rice, suitable for commercial rice business;
4. It is good performance of impurities and stones removing.
5. All spare parts are made by high quality materials, durable and reliable;
6. The complete set of equipment arrangement is compact and reasonable. It's convenient to operate and maintain, saving workshop space;
7. The installation can be based on steel framed operation platform or concrete flatbed according to customers requirepment;
8. The rice color sorting machine and Packing Machine are optional.
Details:
1. Single bucket Elevator
2. combined cleaner with Destoner
3. New split Rice Huller
4. Double row bucket elevator
5. Paddy Separator
6. MNMS15 rice Whitener
7. KXP 50*1 broken rice separator
8. blower for cleaner
9. blower with glass for huller
10. blower for whitener
11. some spare parts and tools