Low energy consumption Factory price small rice Paddy Dryer machine
1. Dry area is large, good drying medium penetrability, good uniform moisture of dried product, high efficiency.
2. Hot blast stove supplies heat, indirect heating grain. During dry process, grain continuous cycling, grain fricting each other, removing the awn, fuzz, etc. of grain surface, and the duster remove these above out of machine, improving the dried grain clearness.
3. Low temperature balanced drying can reduce the grain crack ratio, improve the head rice yield, so as to enhance the quality of rice.
4.Control system adopts the man-machine interface display dryer running status, the operation is simple, automatic display faults be clear at a glance, easy to quickly find out and eliminate faults, safe and practical.
5. The dryer without dead angle for residual grain, even easy cleaning, preventing mixing different kinds of grain.
6. The KETT resistance type online moisture detector. Automatic determination of moisture, and control the speed of removing moisture of grain. It is a high precision sensor and control equipment, when moisture reaches set point, I will let equipment automatic stop.
7. Drive bearings all be designed for low speed, three layer dust protection, dust can't enter to internal when the bearing on operating.
8. We use mixed flow fans instead of centrifugal fans and axial flow fans, the largest air volume will reach 17500 cubic meters/hour after warm air through fans, total pressure is 950 pa, effectively improve the drying effect and low noise.
9. The blades of screw Conveyor use 45 manganese steel, Surface Hardness is HRC50
10. Using belt conveyor instead of screw Conveyors on the top and bottom, greatly reducing crashed rate.
Model
5hxg-10.0 Grain
Dryer (10T/Batch)
5hxg-12.5 Grain
Dryer (12.5T/Batch)
5hxg-15 Grain
Dryer (15T/Batch)
5hxg-30 Grain
Dryer (30T/Batch)
Grain type and Capacity
Paddy
1010-10000
1010-12000
1010-15000
1010-30000
Wheat
1010-13000
1230-14000
1230-18000
1230-33000
Exhaust fan
Type
4-72-6A
4-72-6A
STG-6C
STG-6C
Mode
Centrifugal fan
Centrifugal fan
Mixed flow fan
Mixed flow fan
Air outlet diameter (mm)
600
600
600
600
Rotate speed (r/min)
1450
1450
1850
1850
Air volume(m3/h)
16500
16500
17500
17500
Total pressure(pa)
1000
1000
950
950
Burner
Type
Gun tyoe high pressure spray, Automatic temperature control
Method of ignition
High pressure automatic ignition, Manual ignition
Fuel
Kerosene or 0 diesel
Husk or Firewood
Straw
Anthrancite
Burning capacity
3.0-14L/h
35kg/h
50kg/h
18kg/h
Power (kw)
5.6
6.4
7.2
20.24
Overall dimension L*W*H(MM)
2400*3400*7500
2400*3400*8850
2400*3400*10500
5140*4640*11360
Performance
Feed time(min)
40-45
40-45
40-45
60-65
Discharge time(min)
50-55
50-55
60-65
65-70
Percent of moisture
removed (%h)
0.6-1.0
0.6-1.0
0.6-1.0
0.6-1.0
Safety device
Full quantity alarm; overload protection device; temperature sensor;
control fuse;pressure sensor combustion engine flameout alarm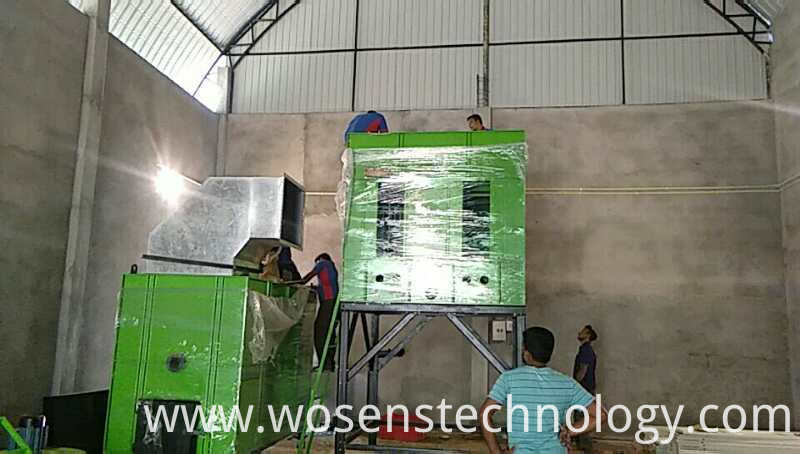 Wosens Technology Machinery Co., Ltd. is an enterprise that specialized in grain and oil processing equipment manufacturing, engineering designing, installation and selling service.